Study and Training
I'm addicted to learning new things and staying on top of the subjects I write about. That's because I'm passionate about them and always want to know more.
I have a BA degree in French Language and Literature from the University of Sheffield. I have since completed studies in numerous areas, giving me a wide variety of knowledge on many subjects and I undertake regular ongoing professional training.
This makes me the perfect choice for writing in many areas and it demonstrates that I have the transferable skills required to research, learn and write about almost anything (except, perhaps, particle physics).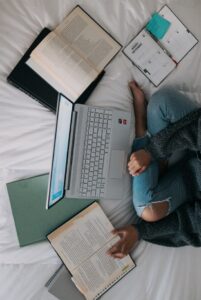 However, my specialist areas to write about are SEO, software and internet marketing, feminism, and disability and LGBT+ rights.
Examples of my study and training include:
Formal / Extended Study Courses
Whose Democracy? Our Democracy? An international learning journey (Collective Imagination Practice)
Generative Journalism training (Peter Pula / Cultivating the Great Community)
Village Builder training (Village In The City)
Writing Young Adult Fiction (Ongoing) (University of Oxford)
Women in Leadership: Inspiring Positive Change (Ongoing) (Case Western Reserve University) 
How to Design a Signature Coaching or Consulting Program (Debbie LaChusa)
Brand Storytelling (Ongoing) (D&AD)
Writing Lives (Pass) (University of Oxford)
Journalism for Social Change (Ongoing) (University of California, Berkeley), March 2015
Ethics, Regulation and Law (Complete) (Federation of Entertainment Unions (FEU))
Life Purpose Life Coach Certification (Accredited) (Transformation Services, Inc.)
Digital Analytics Fundamentals (Ongoing) (Google Analytics Academy)
Introduction to Mobile Journalism (Complete) (Knight Center for Journalism in the Americas)
Doing Journalism with Data (Complete) (Canvas Network)
Investigative Journalism for the Digital Age (Complete) (Knight Center for Journalism in the Americas)
Community Journalism (Complete: Pass) (Cardiff University)
How to Write Children's Books (Ongoing) (Write Story Books for Children)
How to Self-Publish Children's Books on Kindle (Complete) (Richard Bullivant)
Journalistic Ethics (Complete) (University of California, Los Angeles (UCLA) Online) – Communications Studies 187)
Reporting on Sexual Violence (Complete) (Poynter News University)
Profit with Pinterest — A Case Study (The Net Results)
Beyond the Inverted Pyramid: Creating Alternative Story Forms (Poynter News University)
Covering Mental Health Issues and the Recession (Complete) (Robert R. McCormick Foundation / Poynter News University)
Developing a Business Model for a Digital Media Company (Pass: 100%) (Rashmi Sinha and Jonathan Boutelle, Stanford Technology Ventures Program / Alison.com)
Crash Course in SEO (Brian Whalley / Inbound Marketing University)
Social Media and Building Community GF201 (Chris Brogan, New Marketing Labs / Inbound Marketing University)
YouTube Marketing: How to Go Viral (500 Startups / Udemy)
Pitch for Success (Eric Byrde / Udemy)
Profit with Pinterest: A Case Study (The Net Results / Udemy)
How to Blog Effectively for Business GF101 (Ann Handley and Mack Collier, MarketingProfs / Inbound Marketing University)
Creating a Need For Your Product (Pass: 100%) (Stanford Technology Venture Program / Alison.com)
Reporting on Nonprofits (Poynter News University)
Covering Child Abuse: Lessons from the Sandusky Story (Poynter News University)
How to Make Screencasts (p2pu)
Consensus Decision-Making (Seeds of Change)
Understanding Advanced Search Using Google (Pass: 98%) (Google / Alison.com)
Fundraising for the Non-Profit (Pass: 100%) (Stanford Technology Ventures Program / Alison.com)
T156 Digital Film School (Pass: 83%) (Open University)
Diploma in Social Media Marketing (Pass: 98%) (Alison.com)
Business Start-Ups the Kawasaki Way (Pass: 100%) (Guy Kawasaki / Stanford Technology Ventures Program / Alison.com)
Audacity for Recording Podcasts (Complete) (Alison.com)
Diploma in Professional Freelance Journalism
How to use YouTube for Video Sharing (Pass: 100%) (Alison.com)
Self-Directed Support (Not accredited) (Sheffield City Council online)
U122 Make Your Experience Count (Ongoing) (Open University)
A181 Ethics in Real Life (Open University)
SOCI 218 Social Deviance (Pass: 100%) (Columbia College)
Preventing Workplace Harassment (Pass) (Columbia College)
Disability Awareness (Ongoing) (BSY Distance Learning)
Diploma in Photography (Pass) (NCFE)
Certificate in Nutrition and Health (Pass) (Sheffield College)
T189 Digital Photography: Creating and Sharing Better Images (Pass) (Open University)
Introduction to Desktop Publishing (Pass) (NCFE)
Introduction to Community Development and Health (Pass) (Open College Network)
A Levels: French (A), Music (A), Philosophy and Religion (C), General Studies (C)
GCSEs: French (A), Music (A), English Literature (A), Sciences (AA), History (A), History and Appreciation of Music (A), Religious Studies (A), Mathematics (A), Home Economics (Food) (A), English Language (B), German (A)
One-Off / Weekend Training Events
Covering Climate Change: Tips On Engaging Readers And Viewers Without Overwhelming Them (Overseas Press Club of America)
Deafblind UK conference. Events attended:

Being Prepared: Going to hospital, getting older and living life
State of the Art: Creative Tech for Access
Inclusive Innovation
Setting Sights on the Impossible

Manage Conflict and Resistance From Teams With Difficult Personalities (Gartner)
The Art of Editing Non-Fiction (Reedsy Professionals / Amber Hatch / Lisa Howard)
Solutions Journalism 101 (Solutions Journalism Network / YES! Media)
Misogyny, Sexism and Violence Against Women & Girls: 16 days of Action (IDAS)
Reporting family courts: what's the state of play? (Tortoise Media / The Bureau of Investigative Journalism)
How accessibility improves SEO (AbilityNet)
Investigative Journalism Workshop (Centre for Investigative Journalism)
Language Matters: journalists reporting on race and ethnicity (Women in Journalism / Newsworks)
Pathways to Generative Journalism (Peter Pula / Cultivating the Great Community)
Responsible reporting on domestic abuse and domestic homicide (AVA – Against Violence and Abuse / Level Up)
TikTok for Independent Media (Independent Media Association)
Branding advice for the VCS sector (Nifty Fox)
The power of open-source investigations to hold establishments to account (Good Law Project / Bellingcat / Carole Cadwalladr)
Tips and Tools from Women Investigators (GIJN)
Journalist training: Getting behind the numbers – hold companies to account (Economy)
Misogyny, Gender and Hate Crime: Assessing the impact (Professor Louise Mullany / Policing Institute for the Eastern Region (PIER))
Is the jury out on sexual history evidence? (Lottie Herriott / Policing Institute for the Eastern Region (PIER))
Easy Read training (Estelle Bloom)
Disabled Women and Sexual Harassment at Work (TUC)
Endometriosis and the role and effect of medical treatments (Endometriosis UK)
The most valuable SEO talk you'll ever see (Patrick Stox / Growth Festival)
How to stop losing customers in the "need it now" culture (Adam Smith / Growth Festival)
How to Build a Campaign Across Platforms: Live Workshop with Expert Panel + Small Businesses (LaterCon)
Make TikToks, Not Ads (Kate Hewko and Vanessa Gaik / LaterCon)
How to Grow Your Small Business with TikTok (Felicia Ip, Andrea Norquay, Jenna Labiak and Keenya Kelly / LaterCon)
Small but Mighty: The Selling Power of Micro Influencers (Lily Yange, Matt Mullenax, Lissette Calveiro and Grace Murray / LaterCon)
How to Build Your Instagram Community – Online and IRL (Georgie Hyatt, Lilian Umurungi-Jung and Jam Gamble / LaterCon)
The Best Time to Post on Instagram and Why It Matters (Monique Thomas and Jill Warren / LaterCon)
How to Create Content That Converts in 2021 (Lucas O'Keefe / LaterCon)
The Importance of Analytics – Beyond Likes and Comments (Brandon Smithwrick / LaterCon)
Creating a Social Media Content Strategy…Like a Scientist (Stephanie Gilbert / LaterCon)
Sliding Into Your Inbox: How Morning Brew Got 2.5M Newsletter Subscribers (Alex Lieberman / LaterCon)
How to Create Scroll-stopping Videos for Any Platform (Valeria Lipovetsky / LaterCon)
Inbound PR: more links, less COLD outreach please (Stacey MacNaught / BrightonSEO)
Work smarter not harder: how to create an opportunity-first approach to digital PR for more consistent results (Jane Hunt / BrightonSEO)
Why your organic click-through rate is low (Hannah Fox / BrightonSEO)
Reactive SEO: the untapped potential with new terms (Oli Hearsum / BrightonSEO)
A technical solution to content duplication (Sophie Brannon / BrightonSEO)
Send better emails: making the most of your email marketing (Jon May / BrightonSEO)
Instagram SEO tactics to be seen (Freya Jones / BrightonSEO)
Putting the fun in funnel: old-skool marketing theory to supercharge your content strategy (Helene Klaustrup / BrightonSEO)
The quickest win in SEO – how to do internal linking the right way (Martin Hayman / BrightonSEO)
Creating a content flywheel for SEO success (Kirsty Finlayson / BrightonSEO)
How to turn wild opinions into traffic, backlinks, and social proof (Ryan Law / BrightonSEO)
Five ways to kick the creative rut and come up with ideas that earn hundreds of links (Olivia Smith / BrightonSEO)
Building emotion into SEO copy (Molly Gould / BrightonSEO)
5 steps to executing a successful digital PR campaign (Croud / BrightonSEO)
The scourge of "conversion therapy" (LGBT Humanists)
Trans Inclusion in the DA & VAWG sector (Saskia Lightburn-Ritchie / SAYiT)
Building intersectional inclusion in Rape Crisis services (Mridul Wadhwa / SAYiT)
How to create must-have offers that are easy to sell (Janine Coombes / LinkingOut Club)
Why patients want bad medicines (Dr Micheal De Barra / Skeptics in the Pub)
The Power of Authenticity (WorkPride 2021)
Entrepreneurship in the LGBTQ+ Universe (WorkPride 2021)
Investment – Where to find funding for your business ideas (WorkPride 2021)
How to market to the LGBTQ+ community (WorkPride 2021)
CV Writing Workshop With Coach Raf (WorkPride 2021)
How can business better support Intersex employees in the workplace? (WorkPride 2021)
Politics and the impact they have on the LGBTQ+ community (WorkPride 2021)
How to be Inclusive of Trans Peers in the Workplace (WorkPride 2021)
Finding and Listening to Marginalised Voices: Approaches from Archives to Co-Production (Caroline Rusterholz, University of Cambridge; Jessica Hammett, University of Bristol; Tracey Loughran, University of Essex)
Master the practical art of lead gen with Facebook ads (Kim Barrett / Ad World Conference)
Convert contacts into customers: proven strategies to build brand loyalty and drive value (Matt Conlin / Ad World Conference)
Create killer video ads on a budget with this bulletproof step-by-step formula (Tom Breeze / Ad World Conference)
The wheel of persuasion: how to build trust, create believability and inspire action (Alex Cattoni / Ad World Conference)
Steal my framework: lessons learned from video ads that generated more than €100M in revenue (Chris Erthel / Ad World Conference)
Personal branding for introverts: How introverts can grow a strong brand (Goldie Chan / Ad World Conference)
What makes TikTok tick? Inside the algorithm, key metrics and creating successful campaigns (Claudia Cameron / Ad World Conference)
Writing Successful Bids (Fund My Mission / School for Social Entrepreneurs)
Communicating statistics to the media: highs and low during the pandemic (Professor David Spiegelhalter / Skeptics in the Pub)
A law to ban conversion therapy (MOU Coalition)
How to attract dream clients by running an event (Raimonda Richardson)
Vaccine Hesitancy: What Journalists Need to Know (Poynter)
The solution or the problem? What should we do with our public service media? (Media Reform Coalition)
The times, they are a-changin! The rise and rise of independent news media (Media Reform Coalition)
Stenographers or critics? Mainstream media and the "Westminster bubble" (Media Reform Coalition)
Media and Misogyny (Media Reform Coalition / Media Democracy Festival)
Coronavirus & Women In Journalism: Telling the story of our generation (WOW Festival / Women in Journalism)
Covid: Supporting People with Learning Disabilities and/or Autism (Better Care Fund / Department of Health & Social Care)
Demystifying Digital Accessibility (GDS / Cabinet Office / Texthelp)
Writing ethical copy that converts (Tara Stych)
Queer Writing for Teens (Lambeth Libraries)
Content Agility: Aligning and Adapting for Growth (Kamilah McDonald / Freelance Festival 21)
The Power of Ideal Client Research (Katie Spreadbury / Freelance Festival 21)
People with intellectual disability: relationships, sex and sexual abuse (Central Coast Local Health District NSW)
Supporting people with learning disabilities in bereavement (PCPLD Network)
The top 3 Facebook Ad hacks for 2021 (MobileMonkey / Growth Festival)
Conversion Rate Optimisation: 10 tips to turn web visitors into buyers (Digital Ethos / Growth Festival)
How to write lead-generation content for growth (Jenny Cross Productions / Growth Festival)
How the right branding and sponsorship can grow customer loyalty in a pandemic (Newcastle Building Society / Growth Festival)
Video is no longer a luxury (Barrett Films / Growth Festival)
Maximising Customer Engagement in 2021 (Being Mobile First) (Xtreme Push / Growth Festival)
Pitch to Journalists Like a PR Pro (Digital Ethos and Roxhill Media / Growth Festival)
Empowering the Challengers of the E-Commerce Market (Sarkis Salleh / ITQ Digital / Growth Festival)
How to 10x Your Content Conversions With Digital Strategies That Work (Drift / Content Marketing Institute)
Making Social Media Accessible for People with Disabilities (Center for Inclusive Design and Innovation, Georgia Tech)
Inaccessible: The Digital Crime We Unknowingly Commit (getWITit (Women in Tech))
Microsoft 365 Accessibility Tools (WISE Women's Business Center)
Persuasive Writing (Department of Earth, Environmental and Geographic Sciences, University of British Columbia)
Copywriting for Charities (Beesting)
Content Marketing 2021: 7 Trends That'll Usher in a New Era of Marketing (Contently)
Investigating Sexual Abuse: Reporting Tips & Tools (Global Investigative Journalism Network)
Is a feminist future in tech possible? (Herstory / Arroyo)
UBI, Covid and Women: How We Build Back Fairer (UBI Lab Women)
Content Tech: A state of the industry (Content Marketing Institute)
Writing Better Bids (Good Things Foundation)
Supercharge your website challenge (Vicki Jakes)
The Secrets of Persuasive B2B Content (Catherine Toole, Sticky Content)
Converting LinkedIn Contacts to Leads (Alex Pirouz, Linkfluencer)
How to create call-to-actions that drive conversions (Kath Pay, Cloud.IQ)
The Secret Psychology Behind Persuasive Content (Nathalie Nahai / MOZ)
Content Marketing in Boring Industries (MOZ)
The Magic of Outsourcing: How to Create Great Content and Influence People (MOZ)
How to Drive Social Visibility and New Business with Pinterest (Constant Contact)
The Content Marketing Show, London
Where Local Is Going (Mike Ramsay / SEOMoz)
From Nothing to Expert: How to Blog like You Mean It (Tanner Christensen / SEOMoz)
Transform Business to Business Audiences with Visual Stories (Nancy Duarte / Marketing Cloud)
SEO for the Social Media Mind (SEOmoz)
Effective Brand Marketing on Twitter: How to Rise Above the Noise (Social Media Today)
14 Ways to Report Back to Donors: From newsletters to annual reports (Kivi Leroux Miller)
Writing Short: Better Subject Lines, Headlines, Tweets and More (Non-Profit Marketing Guide)
Supporting Individuals with Specific Learning Difficulties (Hidden Impairments) Successfully Into Employment (Professor Amanda Kirby)
Is B2B Really Ready for Video and Social Media Marketing? (Supercool Creative)
Video Marketing Strategies, Tactics, Tips and Case Studies in Social Media (White Hat Media)
B2B Video: How to Drive Audiences, Engagement and Insight (BrightTalk)
The Power of Video in Email – Leveraging their Strengths to Create Engagement (Plan to Engage)
I hate the term CRM. It sounds like a disease (McKee Wallwork Cleveland)
New Media Frontiers (Percassity Marketing Data Solutions)
Content Marketing Strategies for Demand Generation and Lead Nurturing (Retargeter)
Content Marketing for Accounts that Matter (Content Marketing Institute)
Advanced Social Media – How to Utilize Top Platforms (Anvil Media Inc)
The Secrets of Building Online B2B Audiences with Social Media (Brand Generation Marketing)
Mastering B2B Social Media (Hubspot)
What You Need to Know About Google+ For Small Businesses: Why Google+ May be Better for Your Small Business than Facebook (TheNextWeb and Verizon Small Business Team)
How to get more sales-ready leads from your email marketing: More campaigns, less effort, better results (CommuniGator)
B2B Email Marketing and Lead Nurturing – Trends for 2012 (Marketo and Plan to Engage)
Five Things You Need to Know to be Successful in the Cloud (Cloud Computing Services)
The Ins and Outs of Local SEO (Anvil Media, Inc)
Right Audience, Right Message: Increase the Return on Your Content Marketing (Velocity Partners, Marketo)
Driving Demand Through End-to-End Marketing (Channel Maven Consulting)
Winning Content Marketing Strategies: Rebalance your Organization to Deliver Effective Content (Marketing Cloud)
Getting Paid to Write (Reliablewriters.com)
How to Connect, Create, Convert and Cash In with Customers (StomperNet)
The 4 Keys to Pitch-Perfect Messaging (Getting Attention)
7 Simple Strategies to Profit from Facebook Marketing (Amy Porterfield)
Sex and Relationships Education for Young People with Learning Disabilities (Sheffield Centre for HIV and Sexual Health)
Getting Your Business on Google+ (Learn with Google)
Accessible Social Media (SSB Bart Group)
Social Media in the Not-for-Profit Sector (Voluntary Action Sheffield)
Disability in Practice: Emergency Preparedness (Christopher & Dana Reeve Foundation)
Social Revolution: Connecting with Today's Customer (salesforce.com)
Introduction to Web Accessibility (The Accessible Technology Coalition)
10 Keys To Social Media Success: Social Media for Results (Social Media Marketing University)
Legal… Ethical… and Profitable Hype in Your Copy with Vin Montello
Principles for Staying Sane While Effectively Helping a Loved One in Crisis (Mind Freedom International)
The Three Principles of Disability Etiquette (ModernDisability.com)
The Paradigm of Modern Disability (ModernDisability.com)
Food and Mood Workshop
Good Governance
Awareness of Harassment Behaviour within Mental Health Services, and how to Avoid and Tackle it
Introduction to Web Design
Working with Adult Survivors of Sexual Abuse
Working with People who Hear Voices
Team Building
Managing the role of Supervisor
How to Facilitate Groups and the Importance of Facilitation
Counselling Skills
Assertiveness and Self-Confidence
Listening Skills